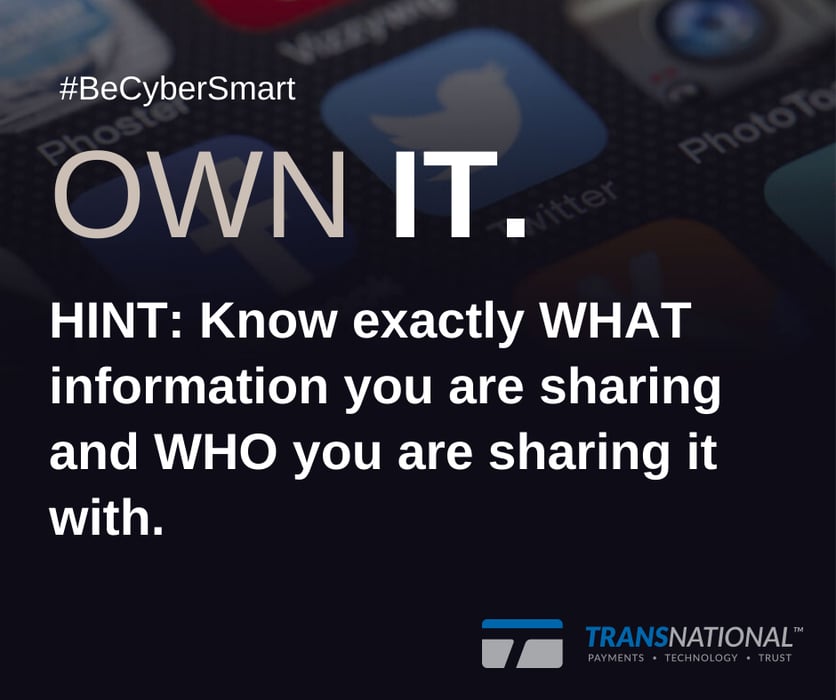 By now you might have heard that October is National Cybersecurity Awareness Month. We decided to put together a 5-part mini blog series to help you understand how you can Own IT. Secure IT. and Protect IT. for your business — here comes part 2 of our 5-part mini blog series.
Now that you've learned the importance of maintaining the security features of a strong password in part 1 of our blog series, we can dive into why you need to pay close attention to what you share online.
Ever feel like your devices are listening to you? There is some truth to the fear, but the real risk is not in targeted advertising, but in what information you
allow
to be shared with app developers, social media platforms and the public.
In the age of social media and connected apps for literally everything, what you share and who you share it with on the many platforms can make or break your business and career. Here are three tips to help you #OwnIT on social media:
Check your privacy settings. Who can see your social media pages? Do you limit items to just friends or are your pages public? It is also important to be careful about what you share, if you wouldn't want your grandmother to see it, keep it off of the web.

Pay attention to permissions. FaceApp (the Russian face aging app) is just the latest to induce mass panic when people realized their photos had been permanently been uploaded to the app's server. Be selective when agreeing to install apps (and grant permissions) on your devices. If an app wants access to sensitive data on your phone, be sure it is one you can trust.

Delete unused apps. Remember that trending app from four months ago? No? Me either. Delete unused apps from your devices to prevent inadvertent sharing.
What are hackers usually after? Well, they tend to go after information they can easily access but some common things are your personal information, company information and your IT resources for large pools of computing resources. Make sure you keep yourself educated and current with ways to protect yourself and your place of business!
Become proactive in your efforts to protect your business, you want to do what you can ahead of time to make sure you aren't bombarded in case something happens to come your way. It's best to be prepared for the worst! Explore the reasons why cybersecurity is crucial for protecting your small business.
Be sure to keep coming back for updates on cybersecurity and check out our social channels for other updates! Keep an eye out for part 3 of our 5 part blog series!