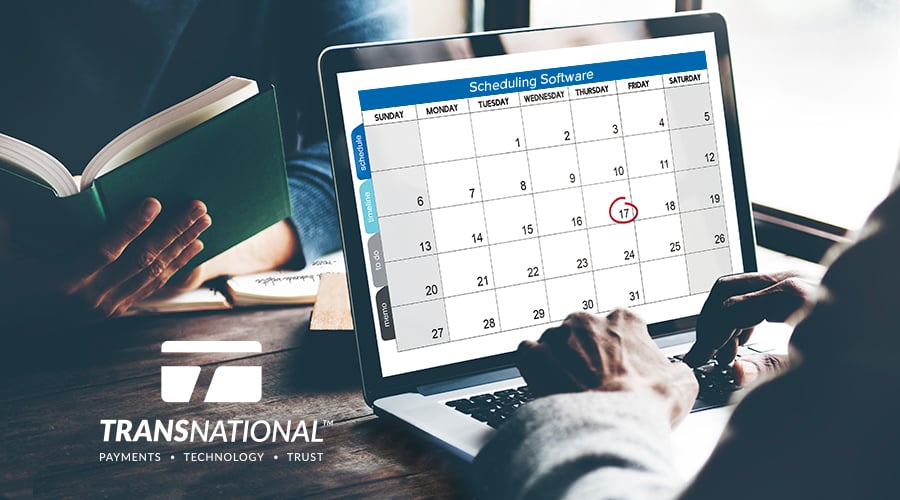 It's estimated that 77 percent of U.S. adults go online at least daily, and another survey suggests that the average American spends 24 hours online every week. These everyday internet users aren't just emailing coworkers or watching cat videos anymore. Increasingly, consumers are flocking online specifically to book appointments and schedule services with businesses of every size, industry or location.
---
How should small businesses meet this growing expectation? The leading companies use affordable scheduling software to quickly win customers, simplify their appointment booking process and manage employee and client schedules online.

While there are a variety of features built into scheduling software that make the investment a no-brainer for most businesses, the major value-add of scheduling software is client-facing online booking. Why? Customers can already book ridesharing services and schedule grocery deliveries from an app or website via smartphone or computer — and they expect the same convenience from your business.

In one marketing survey, the majority of respondents said that the ability to book or request an appointment online either set the business apart or fulfilled an expectation they already had!
Question: How does the ability to book/request an appointment online influence your perception of a local business?
Response:
33% Sets business apart

28% Expected

39% Not important

Why does scheduling software benefit most business types?
The benefits of scheduling software, however, aren't all about the customer. Scheduling software solves widespread problems that many business owners and staff members are eager to improve, like no-show customers; last-minute cancellations; lack of appointments or customers; double-booking and trouble creating loyal customers.

Keeping track of multiple client, employee and other business calendars is yet another time-consuming obstacle to meeting your real business goals. The core features of scheduling software (below) help any type of business run more smoothly and lets staff members switch their attention to revenue-boosting activities.
Appointment Booking: Set your business hours by location or employee, and allow your customers to book their appointments or services online via an app, website or even popular social media sites. Clients can select dates, specify their request and even pay at the time of booking. Does your client want to re-book with you before they leave your business? Your staff can schedule, move or edit new or recurring customer appointments with simple drag-and-drop features.

Do you have business policies that penalize customers for late arrivals, last-minute re-bookings, cancellations or no-shows? For example, customers might only receive a refund of 50% of their service payment if they cancel fewer than 24 hours in advance. Enforce no-show policies more easily with scheduling software and features that collect partial or full payment when clients book online.

Service Reminders: A quick text or email to a customer could be the difference between reliable revenue and wasted labor hours at your business. That's why scheduling software has automated and branded communication features that send confirmation emails, appointment reminders and even post-service surveys to customers — just set it up and leave it. Cut down on the number of no-shows and last-minute cancellations without taking any staff time to manually write out emails or make calls each time.

83 percent of customers said they'd prefer to receive communication via email, text or social media compared to just 14 percent of respondents who said they'd prefer phone calls or mail.

It's clear that customers appreciate the reminder, whether it's by email, text or a direct message through Facebook. Automated service reminders deliver a big payoff with little setup. You can also remind your customers of an upcoming maintenance appointment or encourage them to schedule an appointment when they hit a certain milestone.

Schedule Management: Get organized with a unified calendar overview and the daily updates you need right from your phone, tablet or computer. Drag-and-drop rescheduling lets you switch schedules, see hours and see all appointments. Scheduling software can notify you anytime an appointment is booked or changed. Allow or disallow double-booking to protect schedules from overlap or create room for appointment crossover.
Intake Forms: Collect what you need to know about a client when they book. Ask clients to fill out intake forms when scheduling, and have all of their information neat & tidy in one place. Ask your customers the questions you want to know. For example, for meditation class attendees, you can ask, "What do you want to get out of this class most?" Ask new massage clients, "Is there a specific area I should focus on (areas of tension)?"

Secure App User Permissions: This is the technical way of saying that managers can permit or restrict access to schedules based on employee type. For instance, when your salon receptionist uses the software, they need the ability to create new and recurring appointments. You may not want your stylists, however, to be able to view or manipulate their coworkers' bookings. Grant your employees permission based on your criteria!
29 percent of respondents said "Electronic appointment scheduling" is something they would like to see change at local businesses over the next year.

Who can benefit from scheduling software?
This change in consumer behavior affects everyone! If you offer classes or appointments; run event series or workshops; lead workouts or training sessions; or dispatch technicians or staff into the field, you should seriously consider using scheduling software to simplify operations for managers and staff.

Here are a few key examples of businesses that can benefit from using online booking through scheduling software:
Be the easiest to schedule a service with and stay ahead of the competition without sacrificing any more of your time! Scheduling software gives your business an instant, modern and convenient professional edge that will attract more customers, simplify your scheduling and make it easier to fill your book faster! TransNational Payments can help you find the right software for you.
Our specialists can recommend scheduling software based on your business size and sector for free!