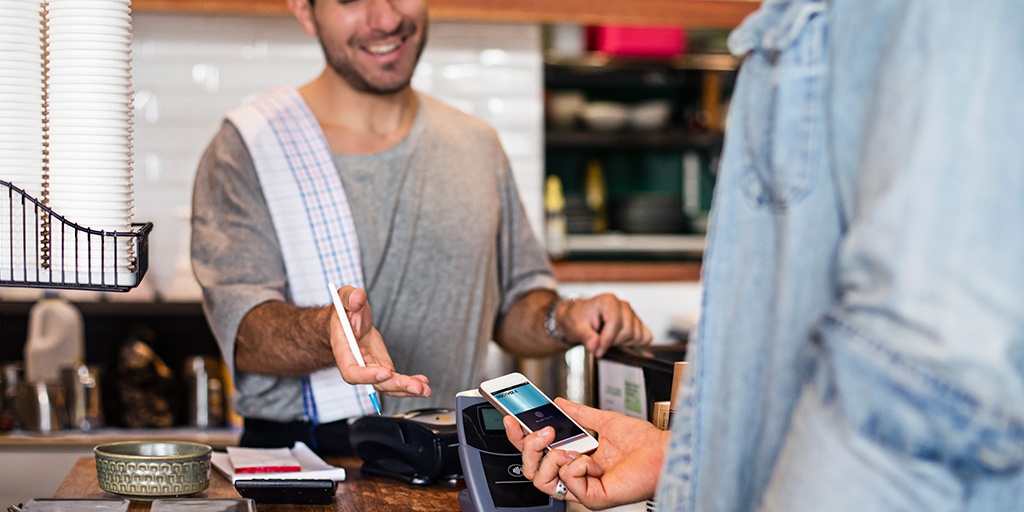 In an age where texting has replaced email and video chat has replaced phone calls, it's no surprise that many consumers are beginning to readily adopt new payment form factors, such as mobile wallets, for making payments in stores and on-the-go.
In fact, 2016 is expected to see rapid growth in the number of consumers using their phones to pay for goods or services, according to eMarketer.1 This year, total mobile payment transactions are slated to reach $27 billion, and those mobile payments are expected to tally an average of $720 per consumer over the course of the year. That's up from $8.7 billion and $376, respectively in 2015. What's more, total mobile payment sales this year is anticipated to rise faster than average spend per user due to increasing consumer adoption.
"This data shows growing consumer appetite for mobile commerce more generally, as smartphones have become an integral device for whenever and wherever consumers want to shop, and therefore pay," said Alisa Ellis, Vice President of Global Products & Solutions at Discover. "For retailers, it's worth considering an investment in implementing mobile payments in addition to the upgrades they are making around security, in order to keep pace with evolving consumer behaviors, not to mention to attract tech-savvy early adopters."
Let's take a look at the benefits that fast, seamless, and secure mobile payments can bring.
Improved Customer Experience
Beyond not having to look around in a bag, backpack, or briefcase for a wallet, mobile payments can make the shopping experience more enjoyable and secure in a number of ways.
Take loyalty programs. Instead of keeping track of multiple key tags or punch cards, consumers linked to a retailer's app on their phone need instead just tap the app to see their purchase history and accrued rewards. Retailers may connect their apps to in-store beacons to display the rewards available to consumers who have collected a set number of points once they enter the store.
There's also speed. Mobile payments are faster than some other types of payments, such as cash, especially during peak times.2 That can lead to happier customers more willing to give you their future business. A busy pastry shop that does the bulk of its orders in the morning could benefit from offering harried customers a way to pay for their bagel and coffee with the tap of their phones.
Finally, turning to security. If retailers accept major mobile wallets, they are tapping into the benefits of a chip-grade transaction, which combines the latest in security features with the speed of mobile payments.
"In terms of enhancing the customer experience, mobile devices bring a trio of benefits, including the opportunity to reach customers through an app, as well as speeding up in-store payments at the point-of-sale and tapping into the benefits of a chip-grade transaction," Ellis said. "As consumer demand for seamless and secure payments grows, retailers that leverage the mobile platform could tap into these benefits and potentially set themselves apart from the competition."
Meet the Customer Wherever They Are
How many times have you intended to purchase an item, only to put it back on the shelf when the checkout line is too long? Or left a store without buying anything because you didn't have extra time for a check through their inventory? Beyond taking mobile wallets at checkout, or enabling in-app payments, retailers also can consider leveraging mobile point-of-sale (mPOS) systems, in which employees can meet customers wherever they are in the store and allow them to pay for their purchases then and there.
"Smartphones have evolved into a key commerce platform and are creating opportunities for new types of checkout experiences, such as mobile point-of-sale," Ellis said. "In the traditional retail environment, consumers would shop and checkout at the terminal with their plastic cards, but with growing adoption of mobile wallets, retailers could leverage mobile POS equipment to allow consumers to pay from anywhere in the store. Retailers also can empower their staff to help customers in different departments, which can be an impactful way to drive a purchase decision."
Aim for Consistent, Broad Payment Acceptance
As mobile payments rise in popularity, in-store signage can help drive consumer awareness of your point-of-sale acceptance of mobile payments in addition to credit and debit cards. Part of a seamless, enjoyable customer experience is the ease with which customers can complete transactions, whether it is with debit, credit, or now with mobile wallets. Of note, about two-thirds of cardholders look for Discover Global Network signage, which goes to show how beneficial store signage can be in welcoming customers and their preferred payment method. A payment processor can help set up your store and e-commerce site for full acceptance of major card brands and integrate mobile wallets into the mix in order to meet consumer demand for this new payment method.
The information provided herein is sponsored by Discover Global Network. It is intended for informational purposes based on independent research, and is not intended as a substitute for professional advice.
1eMarketer, October 26, 2015, Mobile Payments Will Triple in the US in 2016
2Mobile Payments Today, May 13, 2016, Mobile payments opportunities and obstacles for US vendors
3TNS, Global Merchant Card Acceptance/Forrester Research Online Omnibus Survey (2014)
Article Written By Lucy Maher