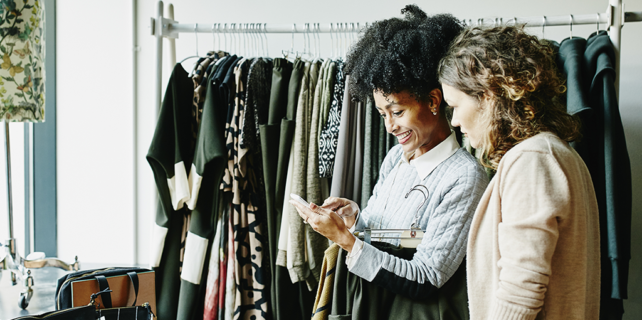 No doubt owning your own boutique is a thrilling experience. However to have this creative passion you have to contend with tough competition and an ever-changing business landscape.
While having a clear point of view of your buyers' style and needs is important, neglecting your logistics will cripple your business before it has an opportunity to grow.
There Are New Basics to Start
Having a good location and great clothes is no longer enough to sustain your business. More and more shoppers are taking their spending online and using the store locations for secondary options for their purchases. Having an established website in place is crucial in staying ahead in a competitive market. In 2016, over 190 million US consumers made their purchases online. Your website can't just be pictures and colors. You will need key functions such as search filters, inventory tracking and fulfillment services to complement your site. Creating a high-functioning website that accepts online payment processing will maximize the opportunity for revenue growth and success in your business.
People Require Incentive to Shop
Loyalty programs have taken the industry by storm, and are a mainstay for every small or major retailer. Approximately 91% of online shoppers report they are members of loyalty programs. It's also known that these shoppers will essentially spend more if they are getting a good deal. Hosting loyalty/rewards programs requires specific software solutions that can track points and discounts, and then disseminate these rewards in a timely manner. You may want to have software to tell you which items should be on a flash sale or clearance.
Payment Needs to be Top of Mind
Whether your business is online and in-person, cash is not as prevalent as it used to be. Over 80% of American shoppers use credit cards or debit cards for everyday purchases. For optimal security, EMV terminals are used to prevent fraud activity while taking card payments. Having a payment gateway and online shopping cart will keep your online transactions safe. You might consider acquiring a point of sale (POS) system for more intuitive inventory and payment management. POS systems are a great way to optimize your operations. Some systems have mobile credit card processing so you can participate at trade shows, pop up sales, and take card payments on the go. You don't have to acquire all of these tools before you start, but it would be wise to include them in your five-year strategy. Taking credit card payments gives your consumers the flexibility that is practically a standard for any retailer.
If you're in need of any of these resources, we can help. Let's talk.