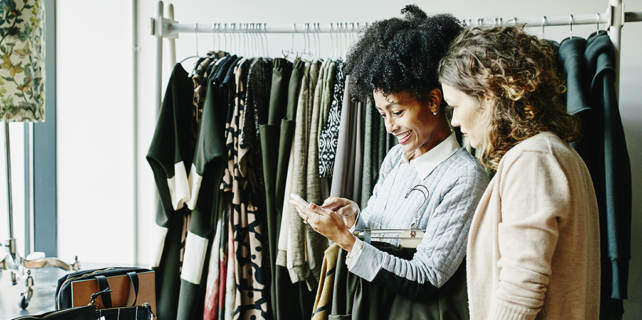 Article provided from our partners at Discover.
With the proliferation of smartphones among consumers, retailers have an opportunity to reach customers in thoughtful and engaging ways that could help influence the decision-making process when it comes to making a purchase.
From location-based targeting where a retailer sends a message to a customer's phone as they walk past the store entrance, to beacons guiding customers in-store to products they love and offering up specialized discounts, the power of new technology and its advancements are endless.
In a recent Discover Global Network sponsored whitepaper, "The Mobile Revolution: Reshaping Customer Relationships," written by an analyst team from Mercator Advisory Group, the same sentiment rang true noting that mobile devices and the cloud are enabling deeper consumer insights that retailers should tap into for more meaningful interactions with their customer base.
It also noted that mobile tech is opening the door to new ways of connecting consumers, retailers, information, and payments.
But how much communication is considered too much? How can retailers strike a balance?
Through mobile technology, retailers can learn more about their loyal customers, but should consider avoiding short-term tactical pitches and instead consider the customer's life-time value. According to Mercator, "66 percent of smartphone owners use their phones while shopping in-store.
People use them to compare prices, contact customer service, read reviews, get coupons, check with friends for purchase advice and make payments."
Going one step further, consumers have shown an active interest in engaging with brands and offering information, according to data from 451 Research. Their studies show 46 percent of consumers would share personal information with a retailer or brand for better rewards, half would strongly recommend a company to friends and family if it has a mobile loyalty program that offered personalized rewards, and 49 percent would like to receive personalized information based on their immediate location.
"We're seeing that as consumers become more comfortable and at ease with technology, they're willing to provide information to retailers in order to continue to capture discounts and incentives on-the-go, in the moment, right when they need it most – at checkout – whether in-store, online, or on their mobile device," said Brian Meier, Director of Strategic Merchant Relations at Discover. "At Discover, we encourage our partners to continuously think about how they can best drive loyalty and commerce across all their platforms in this newer space, and to do so with nothing less than the best customer experience possible."
So, what strategies can retailers consider implementing to enhance their mobile marketing campaigns?
Understand the consumer in context. When it comes to digital offers, half of consumers want to receive offers that are relevant to what they're are interested in purchasing at present, as well as relevant to their personal taste or location. This speaks to the importance of personalization: An employed head of household going into a supermarket at 6 p.m. on a weekday is more likely looking for a quick dinner or a few missing items rather than planning a pantry refresh. Consider offering targeted value – coupons for roasted chickens, ready-to-cook pizzas, and prepared dinners or pre-chopped vegetables. This is a shopper in a hurry, and they could be more receptive to offers or information that will help.
Offer choices. Similar to contextual communication already mentioned, consider giving your customers the ability to select the types of products they're most interested in, such as clothing or electronics.
Consider more timely offers. One way to reach customers in-store with targeted communications is through beacons, which send out a signal to customers who have downloaded your app and opted-in to notifications. According to Swirl, a beacon provider, of shoppers who received a beacon-triggered message, 60 percent opened and engaged with the content. Rather than relying on customers to scroll through emails, think about leveraging a proprietary app and strategically placed beacons at the store entrance to send a discount or offer as they walk through the door. This way, your customers will have it handy as they step through the checkout line.
Ask for feedback. In calling upon customers for feedback, keep it brief. According to Survey Monkey data, nearly half of consumers, 45 percent, are willing to spend one to five minutes taking a survey. Plus, consider the user experience on a mobile device – shorter surveys can be easier to complete on a small screen.
Put yourself in their shoes. Finally, ask yourself how you would respond to your mobile marketing. Would you smile with pleasure at a well-timed offer, or would it seem poorly timed or irrelevant? Can customers adjust the frequency and topic targeting? Marketing to a mobile phone enters a person's private space — act like a polite guest and you'll be welcomed back.