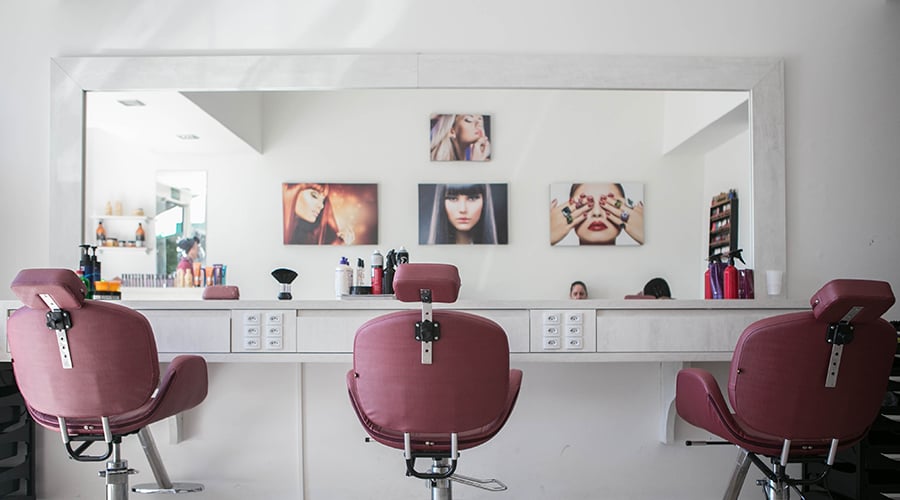 It's Sunday morning, the sun is shining and your salon is all booked up for the day … or so you think. Five no-shows, last-minute cancellations and late arrivals later, your salon could already be more than $400 behind on expected earnings for the day.
Every unexpectedly empty seat chops away at your revenue and leaves your stylists with their eyes on the door. Avoid no-shows at your salon with these quick tips!
Confirm every new appointment promptly.
Set yourself and your client up for success from the moment a new appointment is booked. After your client books a service, have your receptionist or a guest services team member email an appointment confirmation message with the date, time, type of service and stylist name every time!
Better yet, use a salon software to automate the process and save everyone some time! With salon software, you can create confirmation emails, automatic phone calls and even text messages that are automatically sent a few minutes after an appointment has been booked online or over the phone.
Set up automatic reminders using a salon management software.
You, your stylists and your clients have work, family and a whirlwind of other appointments to juggle at any given moment — automatic appointment reminders should be one constant everyone can depend on.
Similar to a confirmation message, reminders are essential to decreasing salon no-shows. Send more than one type of reminder and space them out — you might try sending a reminder email three days out and then giving a same-day courtesy call. Perhaps your salon clients are more likely to see a quick reminder text message.

If that doesn't work, you may need to put a no-show policy in place to protect your salon and preserve your stylists' valuable time. If you already have a no-show policy in place, an appointment reminder isn't just a courtesy. You're also hand-delivering your client an opportunity to cancel their appointment — or request to reschedule — before they bump into your late-cancellation window or earn themselves a no-show fee.
Take charge of your salon business. We break down the salon software features that help you say "no" to no-show clients.

Create a late-cancellation policy and no-show policy.
Every business owner hopes for smooth client relationships, but a cancellation and/or no-show policy may be necessary if even one of your regulars is always rescheduling at the last minute.
If you're looking for a place to start, requiring 48 hours' notice prior to cancellation or time modification is one common industry policy. Even more important than the policy itself, however, is that you communicate the new changes immediately.
Add the policy to your website and voicemail message, hang a sign in a prominent place in the salon, post on social media, and so on. For extra protection, include the date that the policy will go into effect. This will help you avoid chargebacks from clients who say they weren't aware of the new policy.
Remember, when you're explaining the new policy to curious customers, it'll show good faith on your part that your salon sends a variety of appointment reminders!
Enforce policies by requiring a deposit with your salon POS system.
If you're going to create a late-cancellation or no-show policy, you've got to enforce it. Common industry practice is to charge 50% of the cost of the service for a late cancellation, and 100% of the cost for a missed appointment. You might also try requiring a flat $50 deposit for your pricier or lengthy services, like a Brazilian blowout or full highlights.
But chasing down a customer to pay a no-show fee after the fact is time-consuming and challenging, whether it's you, your receptionist or even a collection agency on the job. This is where a salon software, or a payment gateway to accept online payments, pays for itself!
You can require clients to enter in their credit card information and put down a deposit at the time of booking to hold their appointment slot. Take payment immediately, or simply put a hold on the credit card for a portion of the service cost. If you're dealing with a no-show epidemic, this is a simple change that will give you and your stylists some peace of mind — and discourage missed appointments.
Just one missed appointment can be demoralizing for any salon owner or stylist — and multiple missed salon appointments each day bite into your profit and add up to hundreds of wasted labor hours each year. The good news is that you can prevent no-show clients and guarantee that you're compensated for empty books due to other late-cancellation scenarios. Start protecting your salon today with these tips for discouraging no-shows!
You don't have to lose time

and

money to no-shows. Take deposits online ahead of time using a payment gateway for salons & spas.