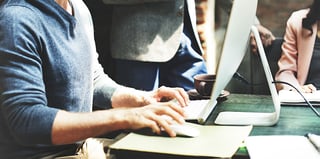 If you read the title and immediately thought of a payment gateway, you've been doing your homework. The payment gateway is an essential e-commerce tool that supports online credit card processing and debit cards processing online. Without a gateway, you don't have an online business.
Your payment gateway will be your go-to resource for initiating and completing transactions, running reports and maintaining secure credit card processing. When a customer places an order on your website, your gateway fulfills these important tasks:
Encryption: This process ensures the card data is secure as it travels to the payment processor. In seconds, the data will be reviewed for authorization.
Authorization: From here, the processor will send the requested information to the appropriate card network. This is where the transaction will be either read as "approved" or "declined".
Completing the Order: The gateway will then forward the authorization status to the appropriate banks to transfer funds. From here, the gateway transmits the information to the web server to initiate the proper message to the customer. The merchant will also be notified and is able to review the sale online.
Payment gateways have additional benefits beyond processing. Merchants can access an array of reports online as well as modify transactions with ease. Some gateways give business owners the ability to set up recurring payments, and other administrative tasks. The gateway could even be used in person while running sales on a USB mobile swiper. This is a huge convenience for traveling business owners who need to accept payments on the go, mobile credit card processing.
Gateways also play a crucial role in maintaining the security of your e-commerce site. With more and more transactions being processed online, fraud activity needs to be monitored and prevented at every turn. While every gateway has some level of encryption, some have additional security measures such as fraud detection software. In addition, some gateways have card-vaulting features that stores card data under extra layers of coding. This makes it difficult to hack the card for sensitive information. Payment gateways are also important in maintaining PCI compliance, thus avoiding unnecessary fees that could befall your business.
Not all gateways are created equally. It's important business owners choose a payment gateway that has all the features to be successful online. Start or expand your e-commerce business using the most powerful and user-friendly payment gateway on the market.