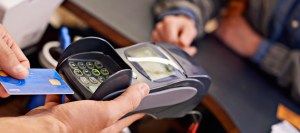 The shift to EMV is helping to address vulnerabilities in the United States payments ecosystem due to the fact that most other countries migrated to chip technology prior to the U.S., making it an increasingly attractive target for counterfeit card fraud activity over the past several years.
According to the Nilson Report, the U.S. was home to nearly half of the world's card fraud in 2014. At that time, the U.S. accounted for 48.2 percent ($7.86 billion) of global card fraud losses, but only 21.4 percent of total spending volume.1 It has been shown that EMV can deliver benefits as a part of industry efforts to combat fraud.
Internationally, some countries, such as the United Kingdom, have seen as high as a 70 percent drop in card-present counterfeit fraud after chip card adoption.2
"From the impacts we have observed in other countries as they have implemented EMV technology, we know that EMV helps reduce fraud at point-of-sale," said Ellie Smith, Head of the Discover Chip Center of Excellence. "This makes the U.S. EMV migration a critical focus for enhancing payments security, which is why the current efforts around chip card deployment are greatly beneficial for consumers and merchants alike."
Why EMV?
EMV technology helps to reduce counterfeit card fraud, as it generates dynamic data with each payment to authenticate the card, after which the cardholder is prompted to sign or enter a PIN to confirm their identity. The new cards, when used at EMV-enabled point-of-sale (POS) terminals, are expected to significantly reduce card-present fraud.
What EMV Means for Your Business
EMV brings with it a learning curve. When a POS terminal is enabled for EMV, a chip card is not swiped, but rather is inserted into the terminal and remains there for the duration of the transaction. However, during the transition to EMV, consumers may not always know what to do with their card at different devices. An EMV-enabled terminal should prompt them to insert the card so the chip can be read; however, employees should be ready to help the customer through the payment process at their individual store if needed. In fact, Discover Network has created a training video that team leaders can use to educate their retail staff about EMV here.
If your business hasn't yet installed new EMV-enabled terminals or upgraded the software on existing EMV-capable terminals, you can talk with your merchant services provider about making the switch. And, by integrating EMV technology into your POS system, you could reduce the threat of fraud losses for your business over time.
Enhance Acceptance Capabilities Beyond EMV
Overall, the U.S. retail payments system, which has been relatively stable for decades, is undergoing some significant positive changes. When merchants continue to invest in EMV and NFC (near field communications, used for tap-and-pay transactions), the purchases made at their EMV-enabled terminals are made more secure than magnetic stripe. New mobile payment options such as mobile wallets support EMV and therefore offer this added layer of security. Ultimately, by enabling contactless payments, merchants can also enable more flexibility in addition to increasing security for their customers.
A steady growth in mobile payment solutions is expected to translate into additional sales over the next five years for merchants that accept in-store mobile payments, according to the Aite Group, a financial services marketplace research firm. Aite forecasts that, after a projected $7.6 billion in mobile payment sales last year, 2016 sales will grow to $22.4 billion and then roughly double yearly through 2020, when sales are expected to reach $487 billion.3 Additionally, industry players such as Discover Network are backing major mobile wallets, such as Android Pay, Apple Pay and Samsung Pay.
The EMV rollout represents a dynamic time for card payments that promises great advances?chief among them is enhanced security for cardholders. It also presents an opportunity to consider other innovations such as mobile wallets and mobile POS to further engage your customers and drive customer loyalty.
1The Nilson Report Press Release: "Global Card Fraud Losses Reach $16.31 Billion ? Will Exceed $35 Billion in 2020 According to The Nilson Report", August 4, 2015
2Financial Fraud Action UK: "Fraud The Facts 2012"
3Aite Group: "Mobile Proximity Payments: A Disruption in the Force", May 13, 2015
The article and information provided herein are sponsored by Discover Global Network for informational purposes only based on independent research and are not intended as a substitute for professional advice. Article Written by Tom Groenfeldt