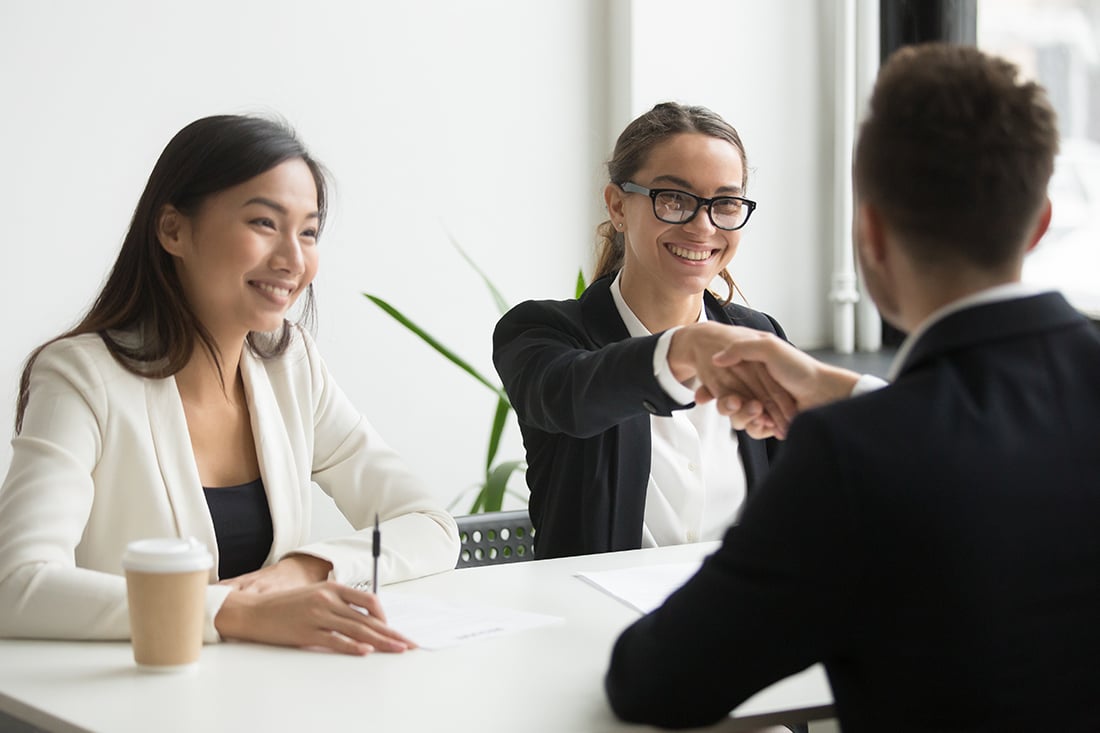 At TransNational Payments we value our customers and take pride in ensuring their experiences are nothing other than the best. We strive to have the best products and services to meet their needs and help improve customers experiences within their businesses. We've put together four useful ways that our products and services can assist you in creating meaningful and significant interactions. Let's explore below how we can help!
1. Partner With the Right Credit Card Processor for Small Businesses
Before we dive into why it's important to partner with the right credit card processor, let's discuss the different options of credit card processing there are, considering it's in your best interest to go with an option that will meet the needs of your business. As we begin to compare the most common types of credit card processing, you should consider the type of transactions you have, along with the volume of your transactions. After all, supplying your customers with the best payment options gives your business the advantage of being convenient, which we all know customers love.
Basic Terminal
A basic or "traditional" terminal is essentially a device with or without a pin pad that's usually connected to a point-of-sale (POS) system. The easiest way to identify if a business accepts credit card payments is if there is a credit card terminal near the cash register. If you operate a well-established brick-and-mortar store and handle a large amount of credit card transactions per day, this is likely the best option for you.
It's becoming a necessity that the more modern terminals be equipped to handle swipe cards, EMV chip cards and NFC (near-field communication) payments. This gives the customers who prefer mobile payments, the opportunity to pay that way as well. Also, it will help grow your potential customer base as mobile payments becomes increasingly popular and convenient.
Mobile/On-The-Go Payments
It's not always in a small business owners budget for complex credit card processing equipment — which is why mobile payments are becoming so popular. Accepting mobile credit card payments at your business is not only a trustworthy payment solution, but it permits you to accept payments in a variety of ways such as in person, online or anywhere your business takes you.
There are three necessities to accept payments via a mobile payment solution: mobile smartphone or tablet, a mobile payment app and a card reader. A mobile point-of-sale, also known as mPOS (like TransNational Payments' Mobile Payments Solution) is the app that enables you to quickly and securely accept payments from any smartphone or tablet. To get started, just download a mobile app, plug in the card reader (or use Bluetooth), connect to a Wi-Fi or data network, and you're ready to start accepting mobile payments.
Using a mobile point-of-sale device is a good option for companies in need of flexibility. If you attend festivals, trade shows and other events where you offer products for sale, having a mobile solution can increase the number of transactions you're able to process while on-site. Every business has different needs and it's important to recognize what they are so you're able to give your customers the attention they deserve.
Online Payments
Incorporating e-commerce into your business can offer many benefits and provide various solutions. Simply put, e-commerce/online payments are a way for a business to accept electronic payments for online transactions. You'll be required to have a virtual terminal in order to process this type of payment, but it grants you a safe and convenient option for your customers.
Having the option of e-commerce for your business will extend your reach beyond local customers, but this means you will need a way to process credit card payments from your website. This is where it's important to choose a merchant services provider that has the capability to manage various types of payments so you aren't put in the position of dealing with data from two different providers. When you make the decision to have e-commerce for your business, you're making it even easier for your customers to buy from you, giving you the opportunity to make your customers happier.
So, What Should You Look For in a Credit Card Processor?
Now that we've discussed what type of processing options there are, we can dive into what to look for when choosing a processor, or a merchant services provider, to give your business what it needs. It can be difficult making a choice when it comes to choosing what credit card option is the best, but a merchant services provider, like TransNational Payments, will walk you through your options and help you determine the right fit for you and your business.
When compiling your list of merchant services providers, take the following into consideration: a good reputation, product variety and quality of service. A simple online search will reveal multiple websites, all promoting different merchant services providers — one trusted source would be Google Reviews. Next, finding a merchant services provider that offers the latest and greatest technology, such as Bluetooth and NFC-enabled mobile EMV readers, will play an important role in preparing your business for the future. Last, but definitely not least, when talking to the merchant services provider, ask what kind of support you can expect in the future. It's best to look for access to reliable installation technicians and 24/7 in-house customer service.
Your business depends on reliable credit card processing, so make sure to conduct your due diligence before deciding who to trust. At TransNational Payments we operate on the concept of full disclosure and make it our goal to put you and your business in the best position possible.
2. Utilize Mobile Payment Processing
As previously mentioned, the benefit of mobile payments should not be taken lightly as we transcend more and more into a digital world. Mobile payments at your business is particularly useful for your customers who love convenience. Not only does it have its advantages for your customers, but it offers a great deal of perks for you as a business owner.
Convenience & Savings
What's better than getting things done quickly and efficiently? Having a mobile payment option available resolves the problem of people having to wait, not to mention, by 2020, experts expect consumers will rely primarily on mobile payments for buying goods and services, sending money and doing business.
Implementing mobile credit card payments can add convenience to your business by putting money back in your bank account — what's more convenient than extra profit at the end of the month? TransNational Payments has many affordable solutions for your small business.
Provide Security & Business Insights
Your customers value making secure transactions and put their trust in your business that their information stays safe. Providing them with a mobile payment option gives them the benefit of security. Mobile payments have multiple layers of dynamic encryption, making them an extremely secure way to pay. They're far more secure than magstripe payments and just as secure as EMV chip card payments. Even better, if you choose the right mobile payments partner, they should be able to support mobile payments with EMV.
Mobile payments also equip you with crucial business insights required for you to understand your customers better resulting in you growing your business. Having the ability to pinpoint what is and what isn't selling is fundamental to understanding your customers needs. With mobile payments you have the feature benefit of knowing what time, date and location your product or service sells best (and what doesn't). Mobile payment apps, such as TransNational Payments' mobile credit card processing app, provide dynamic reporting tools that enable you to stay efficient and recognize purchase data to help you make smarter business choices.
3. Implement a Loyalty Program
Customers love being appreciated! Two-thirds of millennials won't think twice about being a loyal customer without a good loyalty or rewards program. It's essential for this to be established with your business to create opportunity for future purchases within your customer base. These rewards and loyalty programs definitely make an impression and give your big spenders a great deal!
There's many benefits to you and your customers when you have a loyalty program in place. For instance, just as much as you like to save, so do your customers. Create this opportunity for them by giving them a chance to save a little by coming back to your business. This is attractive for new customers who are thinking about doing business with you as well. By providing a way for them to save, you're increasing sales opportunities for yourself.
A well thought out loyalty program only helps you communicate better with your customers. It's a great method to measure engagement and frequency of the products they are purchasing and give you insight on the most popular items being sold. This gives you a way to promote a sale or new product that they could be interested in.
4. Take Advantage of Full Service Payroll
While it's necessary for your business to make sure your customers have an enjoyable experience, it's equally valuable to create that same experience for your employees. Your staff deserves to feel appreciated, since they are the foundation that helps run your business, which is where Full Service Payroll comes in!
By eliminating the need for a staff member, or yourself, to do these payroll tasks, it gives you more time to focus on other core duties of the business that can really make a difference — saving plenty of time and reducing a tremendous amount of stress. With Full Service Payroll, you'll want to pick a provider that has perks like automatic tax filing like TransNational Payments. You are guaranteed accuracy, and if there's an error, we've got you covered. Avoiding tax mistakes that can lead to fines helps save money, which is always a bonus. At TransNational Payments, we also offer features such as free account setup and 24/7 support for those tricky moments when you need assistance!
Conclusion:
Excellent customer experience is top of mind for any business owner, but how to achieve that might not always come naturally to some. We're here to ensure that you, as our customers, have the right tools and knowledge to be able to create that for yourself. We do all that we can to make our customers happy!