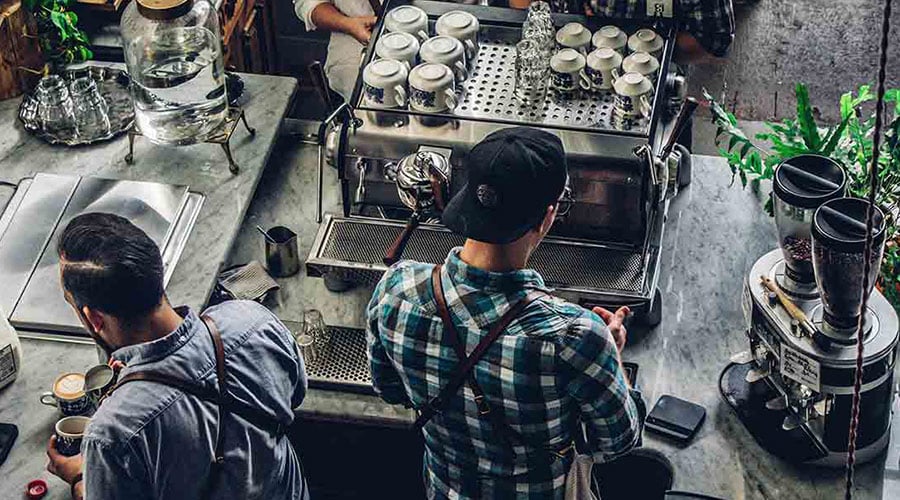 If you want to kick-start your day, need a quick afternoon pick-me-up or an activity to catch up with a friend or a colleague, coffee is always a good idea. After all, this popular beverage has become an essential part of daily life for millions of people — no wonder there are coffee shops popping up on every corner.
Whether you're an entrepreneur wondering how to open a coffee shop or an already experienced coffee business owner looking to become even more successful, finding the right credit card processing solution is your best opportunity for growth. Here are 4 ideas to stay ahead of the pack and grow revenue at your coffee shop or cafe:
1. Pick the right point-of-sale system
As you implement credit card processing solutions, you may experience higher order volume, which is a good problem to have from a revenue standpoint. Yet, a boost in customers can also easily turn into a logistical nightmare if orders aren't managed correctly, especially since no customer likes a coffee shop that keeps running out of their favorite drinks.
To succeed in the competitive coffee business, you need exceptional inventory management. This is where a POS system comes in. With the right solution, you can easily track your product availability, prices and discounts to know when to stock up on items that are selling well and decide how to better market those that don't. But this is just the tip of the iceberg — check out our point-of-sale guide to learn more!
2. Create in-store displays and point-of-sale offers
A point-of-sale system can tell you what's selling and what isn't — but once you know, what's your next step? Consider in-store displays and point-of-sale marketing for an extremely low-cost and simple way to promote certain menu items and move more products. All you need is a little creativity to get started! Think back to the sandwich boards, product stands and window signs that have caught your eye at the mall or in other shops for inspiration. Whether you shout out your best-selling, healthiest, newest or most unique and "Instagram-worthy" beverages, you're sure to drive more sales.
Have you ever grabbed a pack of gum or a last-second snack while standing in line for the cash register? If so, you've given in to the temptation that is point-of-sales marketing, like many consumers before you. Try placing promotions and related goods — you could partner with a local bakery and offer doughnuts, cookies and other pastries — right beside your point-of-sale system. It's an easy way to increase transaction value and leave more customers with happy stomachs.
You can always cut costs by switching to a
more affordable payroll solution for coffee shops!
3. Try mobile credit card processing
Every coffee business is different, so yours may not need all the features of a full-on POS system. In addition, a speedy checkout process means everything for customers stopping to fuel up at your shop during their morning commute. Luckily, you can accept payments just as securely and with even greater convenience right from your smartphone or tablet. Just connect a card reader of your choice, open up your mobile payments app and you're all set to run transactions anywhere you like!
In addition to the ease-of-use, portability and affordability of mobile payments, you still have access to key inventory management features, from item name and quantity to prices and discounts. Plus, you get to enjoy customizable settings and real-time updates with easy sync across all your devices.
4. Offer gift cards and loyalty programs
Your patrons love to be rewarded for their loyalty, and in doing so you can not only show your appreciation, but also grow your revenue — just take Starbucks Rewards for proof. The program has helped boost the company's bottom line to $6.31 billion in 2018 alone, but that's not the biggest takeaway. Starbucks added over one million new Starbucks Rewards members in a single quarter, for a total of 16.3 million members. Coffee drinkers are creatures of habit — if your sales are slumping, try offering a loyalty program to make buying a beverage at your shop even more attractive.
Finally, it's all about creating multiple touchpoints with your customers and making the purchasing experience just as memorable as the purchase itself. With gift card and loyalty programs from TransNational Payments, you can increase your brand's awareness, reward your customers and even integrate your rewards program with your website.
Kick-start your revenue growth with the
best credit card processing solutions for your coffee shop.