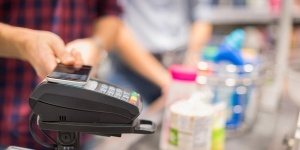 Mobile wallet use is growing. In fact, total mobile transaction is expected to increase almost 32 percent from 2016 to 2017 globally, to USD 1.35 trillion in 2017, according to a study by Juniper Research.1 And as more consumers become comfortable with the technology, security features are taking center stage.
In a study released by Discover Global Network and 451 Research, 52 percent of respondents aged 25-34 said they believe mobile payments are more secure than credit cards. 2 But just 24 percent of respondents aged 55 and older said they believe that mobile payments are more secure than traditional credit cards.
So, how can retailers and wallet providers build a foundation of trust and begin to shift consumer perceptions? One word: tokenization.
Tokenization is the process of substituting a cardholder's 16-digit account number with a surrogate value called a payment token. Payment tokens limit the impact of a data breach because tokens are limited to use on specific devices, for specific merchants, for specific types of goods and services. If a data breach occurs, the payment token is seamlessly removed and replaced with a new payment token – helping to keep the 16-digit account number uncompromised.
Here are three benefits to tokenization you should begin educating your consumers on:
1. Restricted controls limit usage of each payment token to a specific merchant. Meaning, the payment token cannot be used outside of the merchant's environment, reducing its value to hackers seeking to commit online fraud.
2. Payment tokens can reduce the need for cardholders to manually update their payment information when their card number changes. If a merchant stores tokens instead of PANs on their e-commerce site and the customer's payment card is lost, stolen or expired, the payment token automatically updates on the customer's merchant profile. This reduces breakages in the check-out process, because the cardholder does not need to re-enter their updated card number.
3. Tokenization can help make the ever-popular "one-click payment" more secure by storing payment tokens instead of the customer's card number. This simplifies the check-out process as the customer only needs to enter his or her CVV or CV2 number to complete the transaction.
1 "War of the Wallets," Juniper Research, February 2017.
2 "Mobile Commerce Readiness: A merchant and c
onsumer perspective," 451 Research, February 2017.
The article and information provided herein are sponsored by Discover Global Network for informational purposes only based on independent research and are not intended as a substitute for professional advice.