Choosing the right software to help your business manage its current needs and future goal is a big decision. As a small business owner, after much research and review, you've finally made the decision to move forward with an auto shop management software at your auto repair business — now one question remains, how are you going to pay for this management software? Below we discuss three options for helping pay for your auto management software:
1. Go through a merchant services provider.
One option for savings would be to go through a merchant services provider. For example, when you partner with TransNational Payments, you'll get more competitive rates on your auto shop software and your payment processing by bundling them together. We'll also help you avoid getting locked into hidden, high rates with a payment processor through the software you select. You know most auto shop services are paid for with a credit card, so you'll create significant savings when you secure a low processing rate.
Are you ready to test drive a shop management software that saves time and grows your sales?
2. Decrease your payroll costs.
Another money saving option would be to decrease your payroll costs. At TransNational Payments, Full Service Payroll starts at only $30 per month. When compared to other full-service payroll providers like ADP, Paychex and QuickBooks, merchants can save $648 to $1,236 each year when they run payroll biweekly for five employees using our Full Service Payroll. See for yourself with the below payroll cost comparison chart! Visit our website to use the real-time price calculator to see what your savings could be!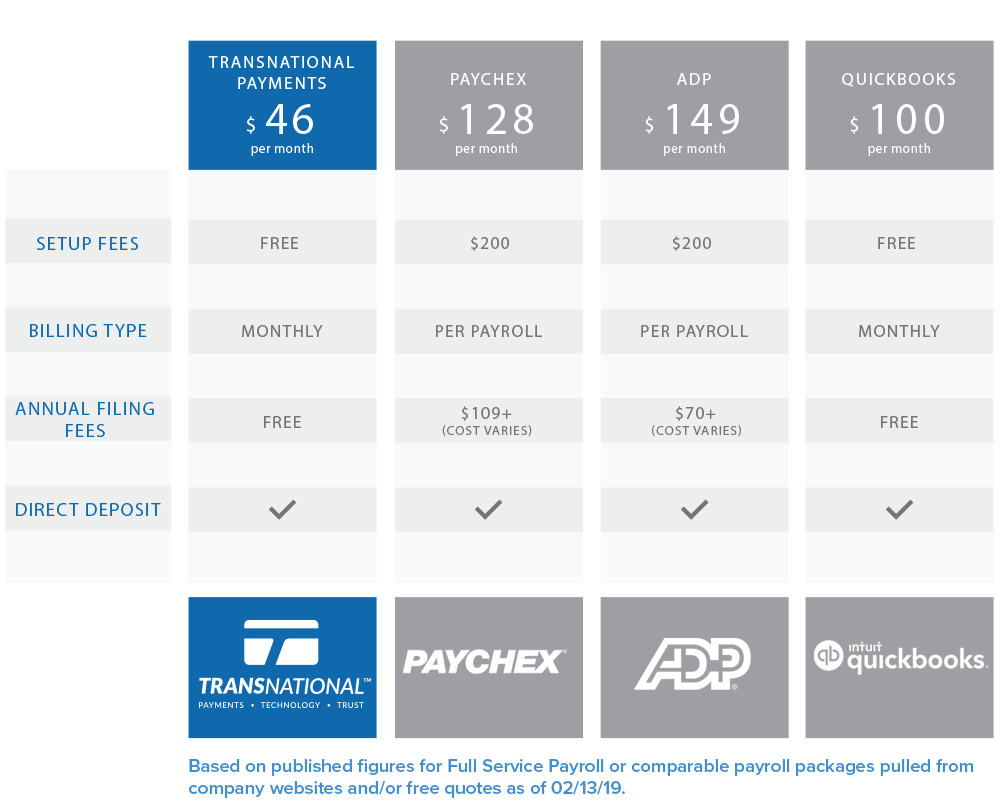 3. Lower your payment processing costs.
If your management software allows it, you can keep your software and payment processing separate. You can still reduce your expenses by switching payment processors or negotiating a lower rate. Look for a provider who offers Interchange Plus Pricing, like TransNational Payments. Interchange Plus pricing is the gold standard because it's the clearest cost plan — you'll be charged the actual card interchange rates (essentially receiving payment processing at cost)!
Merchant service providers, like TransNational Payments, will analyze your auto shop and help find other savings for you — in your equipment, payment processing, payroll and more — so that buying software can have a net-neutral impact on your business' revenue.
We'll steer you in the right direction — let us help you choose the auto shop management software for your business!