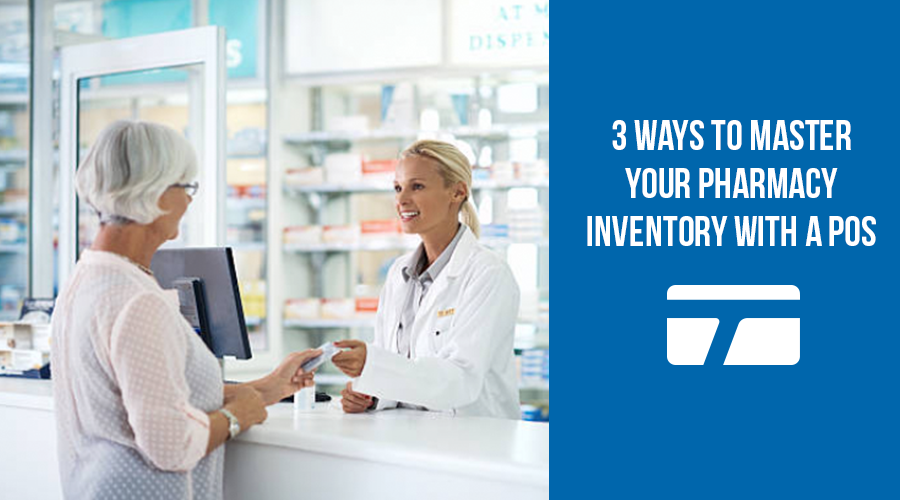 Inventory management is no picnic for independent pharmacies. Challenges pop up everywhere — from sudden, seasonal product demands, to updating quantity changes in a separate pharmacy management system, to keeping up with retail items like snacks, cosmetics and gifts.
Luckily, today's pharmacy point-of-sale (POS) systems are user-friendly and have powerful tools to track inventory (and much more). This isn't your father's cash register or paper checklist, but a pharmacy POS is still a reliable and straightforward way to manage inventory so you can focus on bigger goals! Here are the 3 pharmacy POS features that make it all possible:
1. Digital inventory with simple search & update
If you already maintain a digital inventory list, such as an Excel spreadsheet, pharmacy POS systems include simple import tools so you can transfer your inventory into the system in just a few clicks. (You can also request that the POS vendor import your inventory for you!) If you're starting from scratch, simply count and maintain your inventory by scanning barcodes, and entering in descriptions, prices and quantities.
No matter how many products you offer, searching your inventory is fast and easy. Choose from a variety of ways to filter items, like searching by SKU number, item description, UPC, vendor/supplier or by custom categories that you create!
2. POS integration with your go-to wholesalers
Keep your shelves stocked and your prices on par with competitors with the wholesaler integration available in many pharmacy POS systems! How does it work? When you need to re-order items, simply select your go-to suppliers and send purchase orders electronically straight to your preferred wholesaler. You've just completed a purchase order in a couple clicks!
A pharmacy POS maintains wholesaler product lists and prices so you can makes sure your pharmacy's prices aren't out of touch with the current market — and that you're not scaring customers away. Advanced inventory tracking also alerts you when an item likely needs to be re-ordered based on your past sales.
3. Helpful inventory analytics and insights
Pharmacy POS systems offer a wide variety of reports based on your actual sales data, inventory trends, product prices, customer purchase history and more, so you know how profitable and efficient your store is at a glance.
When should you re-order certain medications? How much time are your employees spending counting inventory? How many sales did you make today, last week or last quarter? Get understandable insights into your pharmacy's performance and cut down on overstocking and waste — or discover opportunities for new products sales, cross-selling or up-selling that you never knew existed!
Inventory struggles? Not for much longer.
Discover what a pharmacy POS system can do for you.